MANAGEMENT PHILOSOPHY
With an eye to the future, the Furukawa Electric Group management team pledges to:
Live up to the expectations and trust invested in us by society, with fairness and integrity.
Apply the sum total of our expertise to satisfy our customers and grow with them.
Continuously strive to achieve world-class technological innovation, and transform ourselves in every area of endeavor.
Nurture human resources at every level, so that we can become a more diverse and creative organization.
THE FURUKAWA ELECTRIC GROUP CREDO
Maintain high ethical standards, and value honesty and integrity above all.
Continually improve, innovate, and lead, in every area of endeavor.
Take a hands-on approach that addresses the reality of every situation - in the office, at the factory, and on site.
Be proactive - take the initiative and work with others, persevering until a solution is found.
Maintain open channels of communication between departments and divisions, so that we can share ideals and help each other grow.
Core Value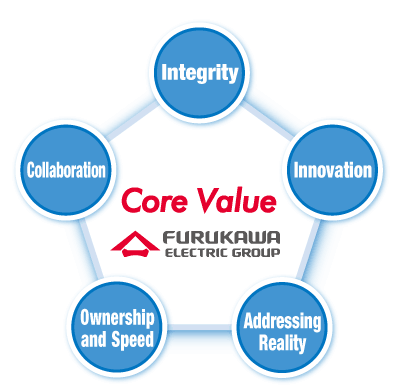 ※ We have selected the key words from within the Group Credo that we value particularly and want to strengthen more.
OUR VISION
Toward a more profitable, innovative, and dynamic global presence